There are countless articles out there about the dangers of social media - why you should delete it all to start abiding in God more, why it's "killing your spiritual life," how to glorify God more, and all of social media's negative elements - finding false approval, inauthenticity, idolatry comparison… we've heard it all.
We have a pretty good awareness concerning the dangers of social media, but what about the potential redemption in social media?
I want to provide a different side of the coin. My hope is that our focus would change. My hope, and I think God's desire, is that our generation would actually become thrilled to partner with His redemptive plan in every detail of life, including social media.
TO DELETE OR NOT TO DELETE?
If God invites you to delete your social media… delete your social media!!! But sometimes for me, I find myself struggling with something and my first thought is "delete delete delete destroy help panic!!!!!!" instead of asking God what His best is for me in the situation. God doesn't have formulas for us. :) Sometimes He invites me to completely get rid of things, and sometimes He extends an invitation for me to depend on Him and let Him teach me how to steward the very thing that challenges me.
It sounds obvious, but we can only learn stewardship when we have something to steward, otherwise we are just memorizing principles. Stewardship happens when CHOICE is involved - "to be on this app or not to be?" It is easy to stay off social media when we don't have it. But true discipline, stewardship, and dependency on the Helper is developed when we have a choice to use social media or not.
So let's suppose you want to learn to steward your social media well and let Jesus be Lord of it - now what?
NO MORE SHAME!!!
You love social media?
I think God does too.
Of course God doesn't love the things within or behind social media that don't line up with His character - narcissism, insecurity, arguments, hatred, etc. BUT! God DOES love redeeming platforms and using them for His glory. Think of it in terms of having influence in the government - God does not love all the corruption, but He loves to show up and bring His love and power through people of influence for the sake of transforming a nation. I think God wants to do the same thing with social media.
Enjoying social media is not something to feel guilty over. Jesus does not shame us when we pull up instagram so that our bad feelings about ourselves cause us to turn to Him. The thoughts of shame - "I can't believe I am on social media again, I have no self control" or "I am so horrible at spending time with God" - are not from God. God's thoughts sound like love, they sound like an invitation. "Let's scroll together. Will you include me in what you're doing?" or, "Hey, I'm jealous for your time. I love you. I love you! Let's talk, I want to share what's on My mind." Jesus loves to spend time with us - and it doesn't always look like reading the Bible. Sometimes it looks like including Him in our daily lives, and sometimes that includes social media.
///
The greatest goal in this life is intimacy with God. Loving Him with all our hearts, souls and minds. This requires conversation and deep trust. Then, with a revelation that God first loved us and that God's love INHABITS us, we can love people really well. The following tips are to promote these foundations - loving God and loving others.
I have broken up this blog post into to sections: including and influencing. Including is all about letting Jesus into every detail of your life and learning to find friendship with Him there. Influencing is all about seeing the Kingdom invade the world around you.
INCLUDING
GOD WANTS TO BE LORD OF, AND INCLUDED IN, OUR DAILY LIVES.
God is called Immanuel, which means God with us. God, the fullness of love, joy, wisdom and peace lives inside of us!!! This profound truth permeates every fiber of our being and will greatly affect the way we live everyday life.
I love when God reveals Himself outside of the four walls of a church building, when we aren't reading our Bibles or singing from the hymnal, when we aren't giving to the poor. Certainly, God loves to show up as we do those things, but some of the most life shaping moments are when He makes Himself known in the very place in the very moment we never expected He wants to be.
In the Bible, Jesus was fully present in the midst of everyday things like fishing (Matt 4:18-20), tax collection (Mark 2:14), and retrieving water from the well (John 4:6-26). He was a human! He ate food and went to the bathroom and built things with his hands.
Is it possible that God wants to find friendship with us in every part of our lives - from church to meal time to social media?
Jesus has convinced me that the answer is yes. He is not too proud to lean down to our level and come close. I have written some practical tips that are helpful in hearing the Lord and including Him when using social media.
///
PRACTICAL TIPS: INCLUDING
"It has become a goal of mine to find ways to use technology in a way that sustains relationship rather than breaking it." - Seth Dahl, pastor and father (Disconnected Dad Podcast)
Invite Holy Spirit to speak to you through your feed.
I have given the Lord space to speak to me in everything - even if it is unconventional. The Spirit of God loves to guide us into all truth (John 16:13), and although He always points to Scripture, He is not limited to only speaking through the Bible. Jesus loves to speak through everyday things; it is part of Him redeeming what the enemy has had dominion over for far too long.
Follow accounts that remind you of Jesus.
If someone's posts are always annoying you, unfollow them. You will like them more and be happier. - Abi Stumvoll
Everyone has the right to post what they want on social media, and everyone has the right to follow and look at what they want to look at. If you don't want to see something that someone is consistently posting… it's time for the UNFOLLOW!
A FEW RECOMMENDATIONS -
Blog / for incredible insight on all the messy stuff we don't talk about in church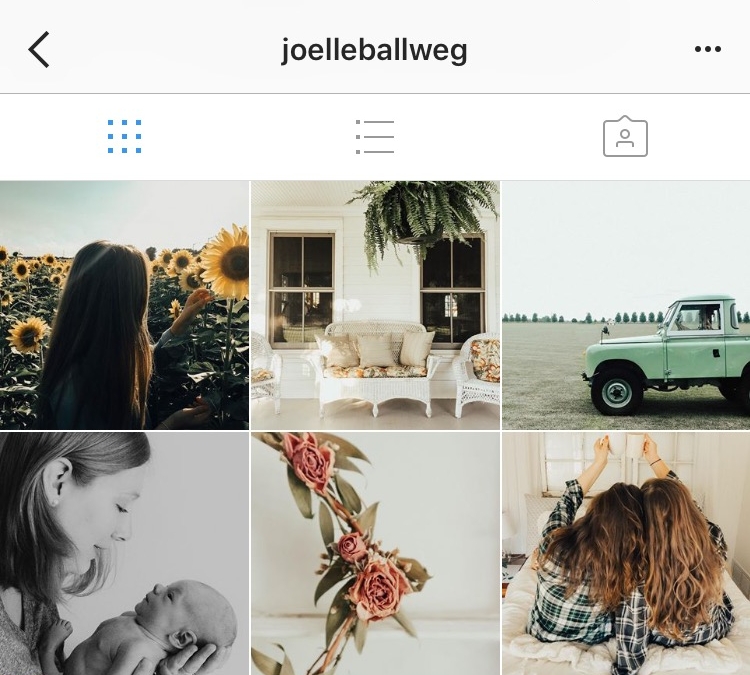 Human / for a look at Kingdom living in every moment of life and a deep lover of Jesus
Magazine / for "art meets academia, beauty meets truth, kingdom meets earth"
Human / for the chronicles of the Father's love in the nations from the eyes of a missionary
Creative Collective / for discovering the voice of Holy Spirit & creativity in every moment
Missions Search Platform / for finding missions opportunities & excellent cultural photography
Use social media posts as devotionals
Watching Sean Fuecht interact with his kids via instagram stories gives me a revelation of the Father heart of God every time I watch. I joke with my sister that these are my nightly devotionals, which is not far off.
If you get caught on a caption that speaks to you, pull out your journal and ask the Lord a few questions. Spend some time with Him about those things that catch your eye while scrolling. Be willing to set your phone down mid scroll and ask the Spirit what He was saying.
Get inspired, encouraged, challenged
I've done many new things because I was inspired by someone on instagram. Painting with water colors, road trips to new places, hand-lettering. If you see something creative that inspires you, TRY IT! This is worship!
Learn to respond, not react
We have the choice of whether we want to let social media control our lives, or if we control social media. It has been helpful for me to not get any push notifications on Facebook, Messenger, or Instagram. This means I don't have to react to a vibration on my phone, but rather I get to choose when I engage with social media. Even within this, I am learning not to react to boredom and whip out my phone, but to sit in the tension of boredom and only open social media when I want to post something or get inspired. Jesus speaks in those quiet moments, too. :)
Learn to steward your time
The Instagram explore page or Facebook news feed can be a wonderful way to get inspired or catch up with friends' posts, but this is also a huge time waster. Be conscious of where your time goes because it's easy to get lost in a world of nothingness here! Remember what I said about deleting vs. not deleting earlier? True discipline and stewardship is developed when we have a choice of whether we are going to use social media or not when it is freely available to us. The Father has empowered us to choose, and know how to choose wisely - let's do it.
Use apps that suit you
I enjoy instagram because it is a social media platform with an emphasis on photos and artful words, and I love photography and writing. With this being said, I don't get irritated when people on my feed don't share the "real life" moments like brushing their teeth or how they just went through a bad breakup, because to me, instagram is a "photo sharing app" not a "display your everyday life app." Others view it differently, and that's okay.
Do you love catching up on the news? Twitter would be great for you. Are you a missionary that wants to keep a large group of people in the loop of what God is doing in your life? Sounds like a Facebook page would suit you. Honestly I still haven't found the purpose behind snapchat but that's just my biased opinion. ;)
...BUT WHAT ABOUT COMPARISON???
One of the biggest hesitancies in using social media is that COMPARISON can become suffocating and seemingly unavoidable. Is there a way to combat comparison while still keeping social media? I'll share a few tips from my own personal process.
I have noticed that sometimes I will let animosity grow in my view of someone via social media until all of the sudden one day I feel disdain towards them and I have no idea why. This is often when my comparison to or judgment of a person goes unresolved and I shove it under the rug instead of bringing it before the Father.
If you are scrolling and see comparison or judgment sneak up in your heart, it's a good time to take note of it, put your phone aside, and sit with the Lord and ask Him why it rubbed you the wrong way.
Maybe you're envious of someone's following who you don't think deserves it, maybe you are resentful of an ex-boyfriend or girlfriend with another romantic interest. Maybe you hate the way this girl dresses. Whatever it is - this is a good conversation starter with the Lord. Ask Him why you feel that way. Ask Him where you need His perspective, and what His perspective is. Ask Him how He sees the person or situation. Forgive people that need to be forgiven. Even if you discern something negative about a person's motives or lifestyle, may it lead you to compassionate intercession for that person instead of judgment. Don't leave until you get the Father's heart for that person, whoever it is.
Celebrate and bless people who are walking in the things you want to walk in. When you see someone with killer engagement photos then find yourself rolling your eyes, it might be a good opportunity to turn that comparison into celebration. Celebrate their relationship. Bless their marriage! Pray that their marriage would be fruitful and that they would know God's love deeper than ever before. These things take a few seconds and will transform our hearts and how we start to see the people around us. Trust me, I have made a practice out of this, and I can now freely scroll through my feed without envy. It is a small miracle.
INFLUENCING
GOD WANTS TO PARTNER WITH US TO TRANSFORM THE WORLD AROUND US.
MEDIA AND CULTURE
Whoever controls the media controls the culture. - Francis Schaeffer
Studies show that media actually transforms culture, rather than merely reflecting it. Jean-François Lyotard is a key thinker of the postmodern age. He says, "A hallmark of the postmodern age is that previously unheard voices can be heard and can influence society. The people's voice of choice becomes pop culture" (Jean-François Lyotard, The Postmodern Condition: A Report on Knowledge).
This can be seen in America but also all around the world, where American culture is leaking into the entire globe. This will have positive or negative effects depending on whom is influencing media in America.
Vanity Fair quoted, "Oprah Winfrey arguably has more influence on the culture than any university president, politician, or religious leader, except perhaps the pope." I am not writing this to say that we can all be the next Oprah Winfrey, but rather to reveal how people of influence shape culture - and I encourage you to be that person. If Christians neglect their role to KINGDOM influence, worldly influencers are left to dictate culture. This principle can be seen all throughout Scripture.
The state of Israel depended on the king's influence of that time, an example of governmental influence. The way David worshipped influenced and revolutionized how an entire nation worshipped. He rallied all of Israel to bring up the Ark of God to his new capital of Jerusalem and appointed Levites to do something radically new, "to make petition, to give thanks and to praise the Lord" day and night (1 Chronicles 13, 15-17). In Acts 17, Paul visits Athens and engages with the people there according to their cultural worldview, quoting Epicurean and Stoic philosophers and poets. This creates relatability and trust, providing a platform to share the Gospel. Could social media be the bridge to share the Gospel in American culture?
MISSIONAL SOCIAL MEDIA
When I google "social media in missions" literally all search results are from the Mormon church. This is not okay. We love mormons and this is not a competition, but where are the Christians willing to influence this enormous part of culture? Satista.com reveals 81% of Americans have social media profiles - what a large group of reachable people hungry for TRUTH!
A missional lifestyle was modeled in the Bible. This means people sought the Lord, shared the Gospel and loved their neighbors every day. They didn't have a 2 week mission trip every other year where they got to practice Biblical principles, they incorporated the life-transforming truth of the Gospel into every detail of their lives. Hear my heart, I am certainly not against short term missions. I just hope that opportunities around us in our daily lives do not get overlooked.
In the Bible, people lived in and went into the darkest places to shine the light of Jesus. This light of Jesus is IN US! In Matthew 5, Jesus tells His followers that THEY are the light of the word:
"You are the light of the world. A city set on a hill cannot be hidden. Nor do people light a lamp and put it under a basket, but on a stand, and it gives light to all in the house. In the same way, let your light shine before others, so that they may see your good works and give glory to your Father who is in heaven." (Matt 5:14-16)
Guess what? We are lights that cannot be hidden; lights to shine before others so that others may glorify the Father. WOW! That is amazing! This means we get to go into dark places - like the realm of social media - filled with narcissism and pride and comparison, not fearful of catching cooties from it, but shining the incomprehensible light of Jesus into that sphere of society!!! What a privilege!
The Bible calls Christians to engage, redeem, and restore culture. - Hugh Whelchel
PRACTICAL TIPS: INFLUENCING
*** Be honest with yourself here. I am speaking to those of you who have security in the Father and don't need the world to see that you're reading your Bible to be seen as credible or mature. I am speaking to those who already have common sense when it comes to social media: not using it to complain, argue, flaunt your new boat, etc. If you're not at that place of maturity yet, no big deal. But things will go better if you're honest with yourself about how you use social media.
Some people post out of insecurity and some post from confidence that can only come from the secret place and spending time with the Lover of their souls in the throneroom for hours. Some post pictures of morning quiet times to make people think they are spiritual because they feel inadequate in that way. Some post out of overflow of their times with Jesus because they are so brimming that sharing becomes inevitable. We've seen both.
If you still struggle with posting out of insecurity, or to feel seen or validation - there is no shame on you! This is our first time doing life... ever. But if I just described you, it's time to stop reading this blog post and seek the Father. Ask Him for a revelation of His love and acceptance for you. It will change your life. ***
Ask God what He wants others to see
What's on the Father's heart? What does He want your followers to see or read today? He surely knows and is surely willing to show you. But, also, if you want to post a rad photo and you didn't get a "word from the Lord" about it - POST IT! And know that each situation is just as holy. God loves to be involved in what we do AND He trusts us to make really good decisions.
Pray over your content
As you post, pray over your photos and captions and status updates - that people would encounter the love of the Father when they read. That the Spirit of revelation would be on your words. That your pictures and captions would stir people up to seek the Lord. (This is not over-spiritualizing things, this is believing the power of God will meet someone in their bedroom as they scroll and they will become acquainted with LOVE.)
Share testimonies
Revelation 12:11 says, "They have conquered [the enemy] by the blood of the Lamb and by the word of their testimony, for they loved not their lives even unto death." Our testimony is part of what conquers the enemy. Not only that, but the root word for "testimony" literally means to "do it again." Every time a testimony is shared (from an entire life testimony to a short story of what God did at the grocery store today), faith is released for God to do it again in the life of the one who heard the testimony.
This should encourage us to SHARE! Share the testimony of what God has done and is doing in your life! We have a platform, let us use it!
Here's an example of one my favorite testimonies as of late seen via instagram -
Inspire, encourage, and challenge others
Unveil your creative thinking! Share your brilliant ideas. Spur one another on. Social media can be a great way to get people thinking in a new way, encourage others to start something new or even just share about the cool new cafe down the road that you love and want others to experience.
If you want to make a powerful and lasting impact on the culture, you've got to do more than just consume it, critique it, condemn it, or copy it. The only way to truly change the culture is to create something new for it – something that will inspire people enough to reshape their world. - Whitney Hopler, "Use Your Creativity to Change the Culture"
Showcase your talent
Showing your giftings gives glory to God! Do you love photography? Do you love writing? Painting? Hanging out with your friends? AWESOME! Show the world!!! We can all make fun of people begging their friends to help them with instagram captions, but let us not forget the art of pairing words with pictures. This expresses our identity as creatives and communicators. All of us were made to create and communicate. Social media gives us a platform to do just that. Let's not shy away from being who we were created to be on social media, sharing our gifts and knowing that God celebrates us the entire time.
Connect with people
Social media is one of the biggest ways to connect people in this age. It is easy to find people with similar interests based on tagged locations or to find cool people you just want to get to know. I have met so many random and incredible people by sliding into their DM's and asking them to grab coffee (or if I could sleep on their couch!) Try it. Be safe, but try it.
Side Note: I have seen some people with a huge following post on their instagram stories / accounts, "Hey let's get coffee! DM me!!!!" I love your heart. Be sure that you have the time and energy to do this however, and that you are honoring your primary relationships - like your family and inner circle of friends. When you start neglecting time with them to meet with strangers, you could be neglecting what you have built in those primary relationships. I know lots of people who have put an invitation like that on the table to their following, thinking it was a good idea, then feel like they cannot manage their lives because they did not expect the large response and ended up overcommitting.
Pray for your followers
Ask people what they need prayer for. Honestly, I only open this question to the general public when I know that I will actually be able to commit to praying for people who need prayer - like when I am on cross-country road trips and I have lots of time in the car. If not, it can be overwhelming! This leads me to my last point...
In everything... KEEP IN MIND YOUR INNER CIRCLE!!!
This is probably the best tip I can give you. Many become slaves to social media because it is where all of their connection comes from. If we connect with family first, we will not live or die by the affirmation or lack of affirmation we receive on social media. No matter what, your FAMILY is always worth your first fruits.
Share things with your inner circle before making them public
I often share poetry on my instagram account. A lot of my poetry comes from really deep places in my heart and it is extremely personal. I don't mind sharing this on social media because it is the real me, but I have gotten stuck here sometimes in wanting people to KNOW me or UNDERSTAND me by reading my writing. While this desire is pure - we were made to be known and understood by God and family - it was never intended that this desire be fulfilled by a third party with a screen in the middle. Over the past few weeks, the Lord has been challenging me to text a few friends some of the poetry I have been writing. I didn't give prerequisites like "I know it's messy, never mind that," or "will you edit this for me?" or even "God told me to do this so here you go." Those don't sound like family, those sound like unintimate business exchanges or the ends to a means of obedience. I said, "I want to let you into my process, here are my messy thoughts".
Try this with poetry, sharing photos, or just giving your friends a life update first before sharing it all over social media. This will provide deeper connection in your relationships and will create intimacy within your family, not social media - which is what God always intended for us.

///
.... BUT WHAT ABOUT GLORIFYING MYSELF?
Just because your social media post is about you does not mean it is selfish. People say be wary of people who say "I" too much but this is not always fool proof advice. If someone tells a story, their process, or even a testimony - they have to use "I." They are the ones in the story! It is THEIR story!
Additionally, I have been duped by the lie that influence is equivalent to pride. Not true!!! If someone has influence, this does not mean they are all about themselves. Influence is a gift from God.
At the end of the day, God looks at the heart. Knowing God looks at the heart relieves any pressure for us to make things look a certain way on social media. There have been so many times where I rephrase and rephrase over and over again just to make it look like I am not attempting to glorify myself, when I know my heart motive is to glorify God. How exhausting!
I think the enemy sees our pure motives (to glorify God) and then shouts back an accusation at us: "You are not glorifying God in this." Then, because we don't trust our hearts, we believe the accusation, when at the same time God is telling us that our heart is actually to love and glorify Him. Hmmm, just food for thought.
God knows when we share to get attention or share to lead people into freedom. If you struggle with your heart motives, just ask Holy Spirit - am I doing this to glorify God? He will tell you. God looks at the heart. Our heart posture should always be our grid for posting, not how things appear to the natural eye.
///
FINAL THOUGHTS
Psalm 1:2 / But his delight is in the law of the Lord, and on it he meditates day and night
What do you spend most of you time on? This will show where your heart is. If we find more delight in scrolling day and night than meditating on the Word of God, it is a good time to re-prioritize.
When we find ourselves delighting in the Lord, we realize He wants to be involved in and breathe upon every part of our lives. Everyone and everything has the potential to be restored through the love and power of God. This includes social media.
Let us remember that social media is just a tool in life, not our lifeline. Let us find deeper friendship with God as we invite Him to be Lord of every part of our daily lives. Let us use social media with boldness for the sake of the world around us.
Let us honor the sacred moments we get to share within family or between us and the Lord before the world gets to see anything.